We provide you with all needed code
Don't spend your precious time designing Backend routines and Database schemas for iBeacon functionalities, we've done that for you.
Don't worry about constant changes in iOS / Android BLE functionalitites.
Create content and simply wait for the real-world events to appear in your app.
We support all beacon hardware that advertises UUID.
Integrate in minutes. Use with ease.
Set up our mobile SDK and register your app in our CMS. Then manage your beacons and map content to them with a wide range of rules.
We've built stuff with our solution
Latio app - iBeacon in restaurants
We've spent about 1.5 months to design, develop whole infrastructure (SDK, API, CMS for restaurants)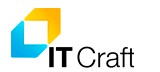 "Users benefit by receiving invitations and detailed information from restaurants when passing them by, as well as browsing digital menus with prices and photos near or inside restaurants." http://itechcraft.com/ibeacon_restaurants/
Busio app - iBeacon in transport
We've spent about 1 day and used our SDK to build this one from scratch, impressive huh?
"Busio - usage of iBeacon (Bluetooth beacons) to receive information about transport near you (routes, prices)" Preply.com
Lowcost Hardware DevKits
We don't make hardware but we have awesome partners